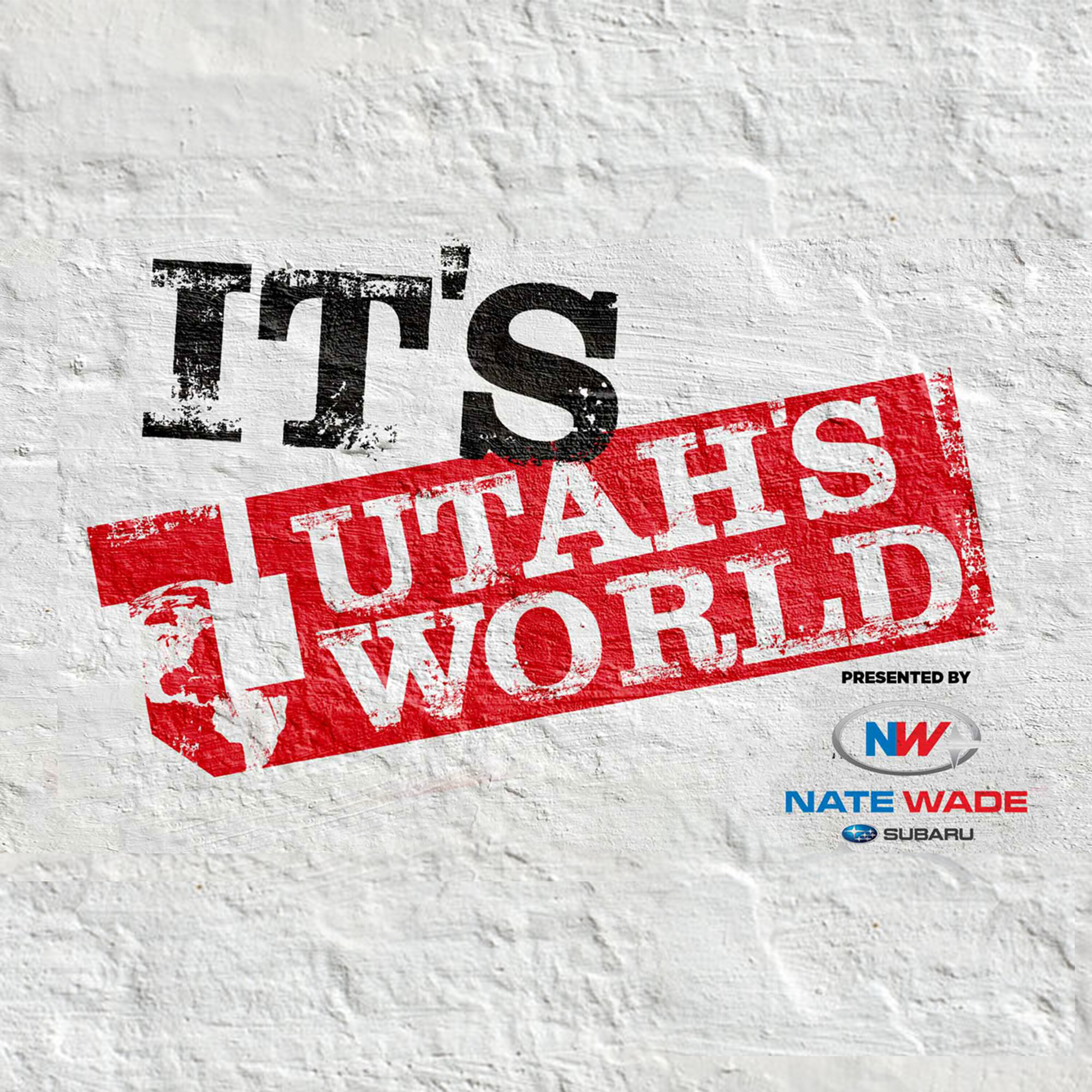 Its Utahs World
Former University of Utah punter, Tom Hackett, alongside Utah insider Steve Bartle join forces to deliver the most informative, entertaining and enjoyable Utah Football related podcast. From recruiting news to inside the locker room stories, Hackett and Bartle will keep you up to date with the happenings of Utah football. A serious podcast about men strapped in protection that can occasionally turn frivolous, well, only if local Salt Lake City food destinations gets brought up. We digress, if you are a fan of Utah football, or just football in general, click subscribe and let the good times roll!
No Program In CFB Like Utah Football (45:45)
10-14-2021
Last week's win over USC exemplified the Utah Football spirit. What new challenges does ASU bring this week? Is the Pac-12 South on the line when the Sundevils visit Rice Eccles? See omnystudio.com/listener for privacy information.
Utah's Recipe To Beating USC (48:37)
10-7-2021
USC has lost two conference games at home and in both losses similarities arise.  Utah has a recipe, can they execute? See omnystudio.com/listener for privacy information.
Another Tragedy Rocks The Utah Football Family: RIP Aaron Lowe (53:46)
9-30-2021
A senseless act of violence has cost University of Utah defensive back, Aaron Lowe, his life.  Rest in peace, Aaron.  See omnystudio.com/listener for privacy information.
Ciao Charles (57:10)
9-22-2021
Charlie Brewer departs. Cam rises to number one.  Utah Football is in a pickle early to start the 2021 season.  See omnystudio.com/listener for privacy information.
You Will Learn Everything You Need About This Utah Team This Week (44:52)
9-17-2021
This Utah team is either what we saw last week; good but not great. Or the loss propels Utah into another gear and the season starts with a W against SDSU.  Only time will tell.  See omnystudio.com/listener for privacy information.
Rivalry Week (40:40)
9-9-2021
Morgan Scalley vs. Aaron Roderick Jaren Hall vs. Utah's defense Charlie Brewer vs. Cougars defense Kyle Whittingham vs Kalani Sitake Utah vs BYU.  What storylines are Tom & Steve keeping close attention to? Where will this game be decided? See omnystudio.com/listener for priva...
What We Learned Against Weber State (56:22)
9-3-2021
Utah Football has provided insight into what to expect during the 2021 season with a comfortable victory against Weber State.  See omnystudio.com/listener for privacy information.
Utah Football Depth Chart Released Ahead Of 2021 Season (32:12)
8-27-2021
Charlie Brewer QB1 & a full back?! See omnystudio.com/listener for privacy information.
Should Utah Play Both QB's To Start The 2021 Campaign? (38:14)
8-20-2021
What if Rising & Brewer were still neck and neck as Utah took the field on September 2nd against Weber.  Could Kyle Whittingham continue his QB battle into the non-conference slate of games? It may make sense based on what we are hearing coming out of camp... See omnystudio.co...
Utah Football Continues To Progress (43:15)
8-13-2021
New locker room, what we have learned through camp thus far and a big step in NIL deals.  See omnystudio.com/listener for privacy information.
Safeties, Tailbacks & QB's (45:12)
8-7-2021
Position groups to keep a close eye on during Camp. Also, remember the name Tavion Thomas, he is special.  See omnystudio.com/listener for privacy information.
The Time Is Here (28:52)
8-1-2021
Utah Football is poised to make yet another run at a Pac-12 Championship. Can they capitalize? See omnystudio.com/listener for privacy information.
Fan Pod! (30:04)
7-24-2021
True Utah fans share their thoughts on their beloved Utes.  See omnystudio.com/listener for privacy information.
The Keys To The Kingdom Must Be Handed Over (00:54)
7-16-2021
How much responsibility will the leaders of the 2021 Utah Football team have? A lot will be learned as the season progresses.  See omnystudio.com/listener for privacy information.
A Message For Mark Harlin & Utah Football (40:52)
7-10-2021
Care to hear how Tom Hackett & Steve Bartle believe Utah Football gets better immediately? Enjoy! See omnystudio.com/listener for privacy information.
The Internet Remains Undefeated (37:15)
7-2-2021
Always understand the power of the internet and the people. Gamesmanship is now a thing of the past.  See omnystudio.com/listener for privacy information.
Utah's Recruiting Strategy Is Working & What To Make Of The Recent Supreme Court Ruling (33:18)
6-25-2021
Utah's roster is only gaining talent, as has been the case for many years now at Utah.  Also, what is going to happen when July 1 rolls around? What should we expect to change within the college football landscape? See omnystudio.com/listener for privacy information.
What Do We Know About The Arizona State Scandal? How Will It Affect Utah? (40:23)
6-18-2021
Arizona State is in big trouble after an anonymous person leaked valuable information regarding the Sun Devil's recruiting ploy.  See omnystudio.com/listener for privacy information.
12 Team Playoff? Expectations Ahead Of The 2021 Season... (46:43)
6-11-2021
College Football considering adding 8 teams to the current playoff system?! What are realistic expectations for Utah Football ahead of this season? See omnystudio.com/listener for privacy information.
Charlie Brewer Can Do No Wrong, We Hear (36:01)
6-4-2021
Incoming transfers galore and has Charlie Brewer already won the QB1 job? See omnystudio.com/listener for privacy information.
Director Of Player Personnel Robert Blechen Discusses How Utah Handles Recruiting (35:45)
5-28-2021
How does the transfer portal work?  How do they distinguish what players they like? Get to know Robert Blechen, Utah's man in charge of recruiting, and go behind the curtain of Utah Football's recruiting world.  See omnystudio.com/listener for privacy information.
Ever Thought About Becoming A Licensed Sports Agent? (58:21)
5-21-2021
Jill McBride Baxter joins the show to discuss everything and anything as it relates to sports law and being an agent.  Be sure to visit her website at jillmcbridebaxter.com for more information regarding her work.  See omnystudio.com/listener for privacy information.
The Pac 12 Has A New Commissioner. Now What Changes & When? (14:32)
5-14-2021
George Kliavkoff. Can he be the hero we all need? Or will he be forever be known as a villain that helped kill the Pac-12?  If he fails, the conference is dead.  See omnystudio.com/listener for privacy information.
Who Will Coach Utah When The Utes Travel To Wisconsin In 2028? (51:34)
5-6-2021
Assuming Kyle Whittingham has won his Rose Bowl and hung up the whistle, Tom and Steve decided it would be fun to discuss who they believe will be the head coach when Utah travels to Madison, Wisconsin to take on the Badgers in 2028.  See omnystudio.com/listener for privacy inf...
Why Is Scouting Such A Difficult Task? (51:20)
4-30-2021
The NFL Draft reminds us all that scouting is a job very few exceed at.  See omnystudio.com/listener for privacy information.
Position Groups To Watch At Utah's Spring Game (28:48)
4-16-2021
What position groups will you be watching closest? See omnystudio.com/listener for privacy information.
Charlie Brewer Is Excelling During Spring Football (35:17)
4-6-2021
Newly signed transfer QB Charlie Brewer is receiving praise from Kyle Whittingham, which is exciting, to say the least.    See omnystudio.com/listener for privacy information.
Spring Football To Allow Fans At Spring Game (23:07)
4-2-2021
Stop it. Is the world slowly returning back to normal? 6500 fans will be allowed at this year's spring game, hooray! Coach Shah's wife was also arrested, and Craig Smith has rejuvenated the sleeping basketball program.  See omnystudio.com/listener for privacy information.
Spring Ball Is The Absolute Worst (34:46)
3-24-2021
Tom and Steve have both decided that Spring Ball needs to alter itself. Utah State needs to come to SLC and practice against the Utes, what is holding them back? See omnystudio.com/listener for privacy information.
SCHEDULES (38:45)
3-12-2021
Spring Ball & the 2021 Utah Football schedule.  What are we watching for in Spring? What will Utah's record be in 2021? See omnystudio.com/listener for privacy information.
Bartle Is Back & The Utah WR Room Just Got Younger (37:45)
3-9-2021
Wide receivers are a different breed. We love them but boy are they different.  What happened to former coach Guy Holliday? And what to expect with Chad Bumphis? See omnystudio.com/listener for privacy information.
A Look At Spring Ball & What We Are Watching (36:47)
2-26-2021
Charlie Brewer and Ja'Quinden Jackson will have a lot of eyes on them, while, the pass catchers will be looking to create great chemistry.  How much will Utah's young defense grow?   See omnystudio.com/listener for privacy information.
Why Would Bryan Thompson Transfer To A Division Rival? (20:48)
2-19-2021
It seems strange that Bryan Thompson would transfer to a division rival. Does he despise Utah that much?  See omnystudio.com/listener for privacy information.
Utah's Quarterback Evaluation (36:12)
2-12-2021
Jack Tuttle over Zach Wilson Peter Costelli over Jaxson Dart How does Utah evaluate quarterbacks? And is it correct? See omnystudio.com/listener for privacy information.
Transfer Portal Chaos, Urban Meyer Followers & EA Sports Delivers (44:17)
2-5-2021
The transfer portal is a hot mess that Utah has benefited from over its recent history. But the loss of Bryan Thompson stings for more than one reason.  Former Utah great joins Meyer in Jacksonville.  EA Sports delivers Christmas in February.  See omnystudio.com/listener fo...
Lets Pump The Breaks On This Transfer Portal Hype (44:34)
1-27-2021
The transfer portal is fun, albeit a tad chaotic, now fans must learn to lower their expectations for high profile transfers.  South end-zone update, recruiting news, and Brian Johnson has finally made the NFL! See omnystudio.com/listener for privacy information.
LARRY SCOTT NO MORE! REJOICE! (40:56)
1-22-2021
Now that we can finally count down the days of the Larry Scott era, what changes must take place once his replacement takes office?  Could former Utah AD Dr. Chris Hill be a legitimate candidate? See omnystudio.com/listener for privacy information.
New Year, Transfers & Kyle Whittingham's Coaching Philosophy (04:39)
1-14-2021
Utah has picked up a number of big transfers in 2021.  Nick Saban has transformed his coaching philosophy going from defensive master to offensive juggernaut, can coach Whittingham follow in his lead? See omnystudio.com/listener for privacy information.
How Much Longer Will Utah Fans Have To Wait For A Pac-12 Championship? (39:29)
1-8-2021
Kyle Whittingham's coaching tenure is in its later stages, will he win a Pac-12 title before he hangs up the headset? Ty Jordan will forever be missed, Tom & Steve share their thoughts on the tragic passing of Jordan.  Who will quarterback Utah in 2021? The QB room is, yet aga...
The Utes Could Be A Force In 2021 (48:59)
12-23-2020
Season wrap up and final episode of 2020.  Utah found themselves some players in just five games during 2020.  But, why are so many players transferring?  See omnystudio.com/listener for privacy information.
National Signing Day Recap, WSU Cougars Preview (25:33)
12-17-2020
Steve Bartle shares his insight into the recent signees.  What to expect from a new look WSU Cougars outfit?! See omnystudio.com/listener for privacy information.
The Emergence Of Ty Jordan Has Emptied An Entire Running Back Room (38:23)
12-16-2020
The future of college football is already here as two of Utah's top running backs have departed the program in search of greener grass.  The Colorado game was a complete team effort.  Oh, and also, Britain Covey is back to his usual dominant self.  See omnystudio.com/listen...
The Battle Of The Ground Game Will Prevail In Boulder, Colorado (58:57)
12-10-2020
Can Utah upset the undefeated Buffaloes? A revamped Colorado team looks to go 5-0 in 2020 by pounding the rock down Utah's throats. But.  Utah has been very good at stopping the run in 2020.  See omnystudio.com/listener for privacy information.
Rejoice! Utah Won & Found The Next Big Tailback, But It Wasn't Always Pretty (58:00)
12-8-2020
Ty Jordan is the real deal. But can he handle 27 carries a game as just a true freshman?  Short yardage execution was poor, so who is to blame? Jake Bentley is struggling but improving every week.  How good does it feel to win?!? See omnystudio.com/listener for privacy info...
Beware Of The Beavers (43:57)
12-3-2020
How will Utah handle the best running back in the conference?  New QB for the Beavs provides more uncertainty for a young Utah defense.  Big game for Utah. Can they limit the turnovers?  See omnystudio.com/listener for privacy information.
The Fear Of Turning The Ball Over Is Having A Big Effect On The Offense, Hence The Zero Second Half Points (56:23)
12-1-2020
No points in the second half for a second consecutive week. No WR reception in the second half.  Is the fear of turning the football over starting to become a bigger issue? Well, at least things aren't nearly as bad as what Utah State is apparently dealing with. Hope you guys ...
Utah's Chances Against Washington Are Better Than You May Think (38:50)
11-26-2020
Hackett & Bartle discuss Washington's offense and defense. Where and how will Utah have success against a young Husky team? Will Britain Covey play? News and notes from the Utah camp!   See omnystudio.com/listener for privacy information.
Our Hearts Are Heavy (51:04)
11-23-2020
Although it is not official, reports suggest Cam Rising's season could be all but over.  What we liked and what we didn't like against USC.  Plus, Bartle gives us his grades on the O, D, and Special Teams! Enjoy.  See omnystudio.com/listener for privacy information.
What To Know About The Trojans... (58:52)
11-19-2020
Utah isn't a happy team at the minute, despite what Whittingham may want the media to think.  USC is still waiting to get clearance from local state officials... Players on USC to keep an eye on. Recruiting news and notes. Colton Swan is a machine on the trail.  See omnystu...
What Is Going On With Utah? Why Are There So Many Positive Cases On The Hill? (30:10)
11-13-2020
Utah is yet to play a game in 2020, they are zero for two.  So why? What is happening within the Utah football program that is hurting them so much?  See omnystudio.com/listener for privacy information.
Arizona Wildcats Preview: What To Expect This Saturday (45:23)
11-4-2020
Hackett & Bartle break down the final Utah Football depth chart while also discussing the players from Arizona that could cause Utah problems this upcoming Saturday.  Can you believe it's game week?!? See omnystudio.com/listener for privacy information.
WE KNOW WHO THE STARTING QB IS (38:40)
10-30-2020
Dalton Kincaid, remember the name.  Jaren Kump transitioning from offensive line to wide receiver?!?! Offensive line fears. Are they good enough? Tom is worried.  See omnystudio.com/listener for privacy information.
Answers Are Just Around The Corner (58:06)
10-23-2020
Just how close is Utah to securing 5 star talent at linebacker? Fall camp updates. Separation at QB position? Arizona Wildcats preview. Expect Utah to be tested early.  See omnystudio.com/listener for privacy information.
Dixon Transfers, Whit Takes Big Pay Cut, Utah Picks Up Local TE & Fall Camp Lock Out (49:31)
10-16-2020
How will the Jaylen Dixon transfer affect Utah in 2020? Coach Whitt takes a massive pay cut Local Pleasant Grove tight end chooses Utah Why is Utah Football not providing highlight videos from camp? See omnystudio.com/listener for privacy information.
The Most In Depth Breakdown Of Utah's Fall Camp Depth Chart You Will Find (15:23)
10-9-2020
Want to learn more about the players listed on Utah's 2020 Fall Camp depth chart? This is the episode for you.  Quarterback battles, offensive line changes, Britain Covey in the backfield...!?!? Stacked at DLine, new faces at linebacker and plenty of questions in the secondar...
Here Is What We Know About The Return Of Pac-12 Football (50:18)
9-30-2020
Utah's upcoming home and away games Mark Harlan is a leader BIG recruiting news. Defense continues to dominate on the recruiting trail.  See omnystudio.com/listener for privacy information.
The Band Is Back And So Is Football! (42:58)
9-18-2020
REJOICE! Pac-12 football finally looks set to begin in 2020.  Steve Bartle updates Utah fans on recruiting and the lads also discuss locals in the NFL.  See omnystudio.com/listener for privacy information.
Utes In The NFL & November Football? (17:21)
9-11-2020
Could Utah be playing Pac-12 football as soon as November? And did you catch all the former Utes that made NFL rosters? See omnystudio.com/listener for privacy information.
New Developments In COVID Testing Brings Promise To Pac-12 Fall Football (35:33)
8-31-2020
The Big 10 has begun discussing whether they should reconsider playing football in the fall. But the Pac-12 is yet to budge.  A development in COVID testing has emerged as a significant factor in helping college football safely compete in the fall. Why is the Pac-12 not taking ...
Will Players From The Pac-12 Transfer To Conferences That Are Still Intending On Playing A Season This Year? (42:11)
8-21-2020
How is it that the SEC, ACC and Big 12 medical advisory boards still think it is best to play college football in 2020 when the Big 10 and Pac-12 have already decided against it? Will players from Utah leave the program with the hope of playing football in 2020? How will Utah m...
Have The Tears Dried Up Yet? Utah's 2020 Football Season Is Cancelled (48:23)
8-13-2020
There will be no Utah Football, but Tom and Steve will be here with you every week to share some laughs and inform you of the recent happenings.  College football is a wreck. Enjoy the episode!  See omnystudio.com/listener for privacy information.
Travis Wilson, Isaac Asiata, Kenneth Scott and Tom Hackett Reminisce On 2015 Season (21:16)
8-7-2020
Want to hear stories from the 2015 season? The season when Utah was ranked number two in the country following back to back victories against Oregon in Eugene and California with College Gameday on campus.  You are going to like this episode! See omnystudio.com/listener for pr...
Utah Football's Conference Only Schedule Has Been Announced! (19:16)
7-31-2020
How well does Tom Hackett and Steve Bartle think Utah will do now that their schedule has been released?  Can Utah start their season 5-0?!? See omnystudio.com/listener for privacy information.
Can Utah's Wide Receiver's Live Up To The Hype In 2020? (46:25)
7-23-2020
For the first time since Utah joined the Pac-12 their offensive strength falls in the hands of their wide-receivers. Can the pass catchers take Utah back to their third consecutive Pac-12 Championship Game?  Tom Hackett & Steve Bartle discuss. See omnystudio.com/listener for p...
Are The Oregon Ducks Coming To Rice Eccles To Open The 2020 Season? (45:18)
7-18-2020
Rumor has it that the Oregon Ducks are coming to Utah on September 12th to play the Utes in the teams' first games of 2020.  Will Utah land a highly touted linebacker off the transfer portal? They could desperately use him... Ryan Lacy has continued to push his narrative regar...
BYU vs. Utah Cancelled (41:51)
7-10-2020
Pac-12 conference eliminated non-conference games, meaning that BYU and Utah will not play each other in 2020.  How long until the NCAA has a governing body?  How do college coaches recruit? How much time and effort do they spend on a recruits parents? See omnystudio.com/lis...
Reaction From Morgan Scalley Breaking News! (42:04)
7-1-2020
Tom Hackett and Steve Bartle share their reaction regarding the news that Morgan Scalley will return to Utah Football following the conclusion of a month-long investigation into his use of a racial slur from back in 2013.  See omnystudio.com/listener for privacy information.
Could Yet Another Barton Brother Join The U? Scalley Update & Tom's Interaction With Coach Whitt (39:05)
6-26-2020
Tom Hackett and Steve Bartle talk football.  Bartle watched a 7 on 7 tournament last week and gives an update on yet another Barton brother.  Tom ran into Coach Whittingham during the pandemic.  Update on Morgan Scalley, the investigation is complete.  See omnystudio.com/...
Would Kalani Sitake Take The Utah DC Job If Scalley Does Not Return? (27:09)
6-19-2020
KSL Sports BYU Insider Mitch Haper joins Tom Hackett to discuss a topic matter that ruffled some feathers midweek.  Assuming Scalley does not return to Utah following the pending investigation regarding his use of a racial slur from 2013, would current BYU head coach Kalani Sit...
Morgan Scalley Update: What We Know (36:31)
6-12-2020
Steve and Tom discuss what they have learned in the week since the news broke regarding the suspension of defensive coordinator Morgan Scalley.  Information on the situation that you will find nowhere but right here! Rate, review, subscribe. Thank you! See omnystudio.com/list...
BLACK LIVES MATTER (57:31)
6-5-2020
Bartle & Hackett touch on the issues facing the world currently. Including the sensitive subject of racism and social injustice.  Utah and BYU will square off in less than 3 months! Learn why Hackett believes this game is as daunting as any game against the Cougars has been in ...
What Will Utah Football Look Like Post Kyle Whittingham? (57:14)
5-29-2020
Tom and Steve discuss what the future of Utah Football will look like following the Kyle Whittingham era? Would it be a mistake to hire anyone but Morgan Scalley? Utah seems poised to pick up yet another 4-star prospect, Steve informs.  The boys react to the news of Utah Foot...
How Will Utah's Offense Look With No Clear Cut RB? (55:00)
5-22-2020
For years, and we mean years, the Utah Football program has relied heavily on their running back production to win them football games. This year, however, they do not have a clear cut back who will bear the brunt of the load.  In fact, the strongest aspect of the offense this ...
Will The Pac-12 Have A Season? (47:18)
5-15-2020
What will USC and UCLA do following the news that Los Angeles will likely be in lockdown for the next three months? What will happen when players do not feel comfortable returning to the practice facility? The NCAA desperately needs a commissioner. Is this the start of the end...
How Does Not Having Fans (Presumably) Change How You View Utah Football's 2020 Schedule? (46:45)
5-8-2020
The Utah Football team has a clear and distinct advantage when they play at home, however, assuming that when CFB returns there will be no fans allowed inside the stadium, how does that impact the upcoming schedule for the Utes? Steve was sent a video of Clark Phillips III dunki...
What Will It Take For Utah To Become A CFB Powerhouse? (48:25)
5-1-2020
Tom Hackett and Steve Bartle discuss the upwards trajectory that Utah has been on the last handful of years.  However, they are still a ways from being crowned as one of CFB's elite programs.  What will it take for the Utes to take the next step? See omnystudio.com/listener ...
Why Was Jaylon Johnson Not Selected In The First Round? (37:46)
4-24-2020
What were our favorite moments from the inaugural virtual NFL Draft? Jordan Love created the most buzz online after being selected to the Packers. There were 6 CB's taken in the first round and Jaylon Johnson was not one of them...why?   See omnystudio.com/listener for priva...
The Utes Have A New 4-Star QB Commitment! (55:34)
4-16-2020
Steve Bartle shares his insight into why Peter Costelli, Utah's latest 4-star QB commit from Mission Viejo was the top priority for Andy Ludwig and the Utes to secure.  Tom Hackett and Bartle dive into why it is important to not get too excited, however. Patience is a virtue, e...
How Does Utah Get Over The Hump? What Needs To Happen For Them To Bring Back A Championship In 2020. (53:32)
4-8-2020
Steve Bartle and Tom Hackett discuss what they think needs to happen for Utah to win a Pac-12 Championship in 2020.  Former Ute and public figure Isaac Asiata was recently sworn in as a Provo Police Officer.  How much does having players get drafted really help Utah's recruit...
What Does The Future Of College Football Really Look Like? (48:21)
4-1-2020
Hosts Tom Hackett & Steve Bartle discuss the future of college football and whether or not Utah fans will be able to watch their team this season.  Tyler Huntley released footage of his personal Pro Day, how did he look? Clark Phillips III is still working out as hard as he wo...
Did Cam Rising Have Something To Do With The Arrival Of Jake Bentley? (55:42)
3-25-2020
The boys are back! After a short break, Tom Hackett and Steve Bartle talk about all of the fallout from the worldwide pandemic regarding the coronavirus.  Updates on the players and how they are handling the new schedule. What if we told you that Cam Rising had an impact on bri...
Position By Position Breakdown, Who Will Start At QB? What Are Steve And Tom Hearing? (52:20)
3-10-2020
Spring football is well and truly underway, but Tom Hackett has been away on paternity leave. He returns with questions and, fortunately, Steve has answers to them. Click play to hear the insight on the highly touted quarterback battle. What have the boys heard and more importan...
Happy First Day of Spring Ball & NFL Combine Results With Paul Toala (54:32)
3-2-2020
Steve Bartle and former Utah OL Paul Toala are back again.  On today's episode, the two share their thoughts and opinions on the results of the NFL Combine for the UBoyz in attendance.  How specific results will impact players like Javelin Guidry, Terrell Burgess and Zack Mos...
Utes In The NFL Combine, Workouts, Spring Ball Award Nominations FT. Paul Toala (59:14)
2-24-2020
Paul Toala joins Steve Bartle (Tom Hackett is out on paternity leave). The guys talk Utes in the NFL Combine. They predicted Leki Fotu and Jaylon Johnson will shine at the NFL Combine.  Paul Toala shares inside information about the strength and conditioning of the Utah Footbal...
Recruiting Insights. Scalley at the helm? Eric Weddle's retirement. Trust us, click play. (01:17)
2-18-2020
The questions that you need answers to...👇 Recruiting What are recruits interested in nowadays? What makes Coach Shah such a beast on the trail? How has Coach Whittingham transformed into the recruiter he is today? What makes Eugene, Oregon such an attraction? Future Coachin...
Welcome To It's Utah's World (57:08)
2-11-2020
The name may not necessarily roll off the tongue. However, if you're a Utah football fan, you should recognize the reference.  Regardless, during the inaugural episode, host Tom Hackett and Steve Bartle discuss: The recent (and best) recruiting class of all time 9 Utes headed t...
Post Championship Game Therapy Session (48:17)
12-13-2019
Consider this episode of SFG a therapy session. We know that it is not easy, and some of you may still be unable to comprehend what happened against Oregon in the title game.  However, Tom Hackett and Isaac Asiata share their thoughts on how to move forward, where it all went w...
Utah Football Awaits Biggest Game In Program History (38:00)
12-3-2019
Utah is the Pac 12 South champions for the second time in as many years. Feels good to say doesn't it Ute fans. How will Utah fair against a two-loss Oregon Duck outfit?  What are the keys to beating the Ducks? Tom went to church and Isaac has beef with USC fans.  Do. Not. ...
Will Utah End Up In The College Football Playoff? (49:44)
11-26-2019
The Arizona football program is in disarray. Utah has blown out opponents since the week 4 loss against USC, which has to mean something to the CFB Playoff Committee... *New Segment* Isaac's Twitter Wars debuts! Why you need to show up to the Colorado game early. These seniors...
Tyler Huntley Has A Heisman Campaign. How Has He Become The QB He Is Today? #HuntleyForHeisman (44:01)
11-20-2019
#HuntleyForHeisman has been started. The campaign is happening and moving swiftly along.  How has Utah QB Tyler Huntley evolved over the years? Starting in 2016 to where he is now. Nobody envisioned Huntley to have the season he is currently having, so how has it all happened? ...
Why this team is the best Utah Utes team of all-time... (43:18)
11-14-2019
FIRST THINGS FIRST LADIES AND GENTLEMEN: Popeye's or Chick-fil-A???  Utah is #7 in the playoff rankings and opinions are flying around everywhere but the bottom line is — this is the greatest Utah Utes team of all-time. We also dive into Britain Covey's status and whether or ...
Cal recap, Washington preview, and the Utes' historic defense (32:35)
10-31-2019
First things first, is chili a soup? Isaac Asiata and Tom Hackett recap last week's win against the California Golden bears, look ahead to this week's Washington Huskies matchup, and this year's historic defense. See omnystudio.com/listener for privacy information.
ASU recap, Utes' biggest rivals, Cal preview, and concussion discussions (46:21)
10-23-2019
In this episode of SFG, former Utes Tom Hackett and Isaac Asiata, recap the latest win against Arizona State University, some of Utah's biggest rivals, and Utah's defensive success behind Bradlee Anae's three sacks.  Then we preview this week's game against the California Golde...
Utah Prepares For Biggest Game Of The Season Against Arizona State (39:14)
10-17-2019
Since the loss to USC, Utah has been on a mission dismantling Washington State and more recently, Oregon State. How will they respond when they host the number 17th team in the nation, Arizona State? Why is this team now playing its best football? Is it sustainable? Former Ute...
OSU preview, Jaren Hall's potential, Britain Covey redshirting, and the Utes moving forward (36:02)
10-11-2019
On this episode, we're joined by Isaac Asiata to preview the upcoming game against Oregon State University, how the team has performed in Oregon throughout the years, and Joe Williams' retirement. We also dive into BYU interim QB Jaren Hall's potential and what it means for Zach...
Washington State vs Utah recap, Tyler Huntley hype, Bam Olaseni updates, and SB 206 (43:59)
10-1-2019
This week, Isaac and Tom are recapping Washington State and the different energy that the Utes were able to bring this week. Tyler Huntley is thriving with the help from the o-line and now it's got us talking where he ranks in the conversation of great Utah QBs. Then we talk abo...
Isaac Asiata joins the show and talks about Utes vs USC, Tyler Huntley, AP Poll, and Utes struggles (34:00)
9-27-2019
On this very special edition of SFG, we welcome our new co-host, former NFL guard, Isaac Asiata, to recap the Utes vs USC game, Tyler Huntley's performance, how the team can improve after the loss, and dropping in the AP poll. We also dive into UCLA's win against Washington St a...
First Big Road Test Awaits Utah As They Travel To The Coliseum And Take On The Trojans (39:44)
9-19-2019
Will Utah break their 103 year curse and beat the Trojans? It is the first big road test for the Utes in what will be a fascinating match up. Zack Moss and Tyler Huntley are entering the Heisman conversation and the Utes are back to full health. Join Andy Phillips and Tom Hackett...
Josh Henshaw on flying to New York for a possible Jets tryout and latest Utes updates (42:47)
9-11-2019
On this special episode of SFG, Tom interviews Josh Henshaw, the Utah man who flew out to New York to possibly get a tryout for a kicking position for the Jets. We also talk about the Utes fans clapping-back towards the latest Utes gear, Idaho State preview, and how trash UCLA is...
Utah/BYU recap, updates around the Pac-12, and the continued kicking woes (49:33)
9-6-2019
We're live at Tim Dahle INFINITI to recap the Utah/BYU game and how the Utes are shaping up after we get our first look of the team. We dive into Zack Moss' and Tyler Huntley's stats for the game and how the kicking is stacking up. Then we take a look around the Pac-12 and see w...