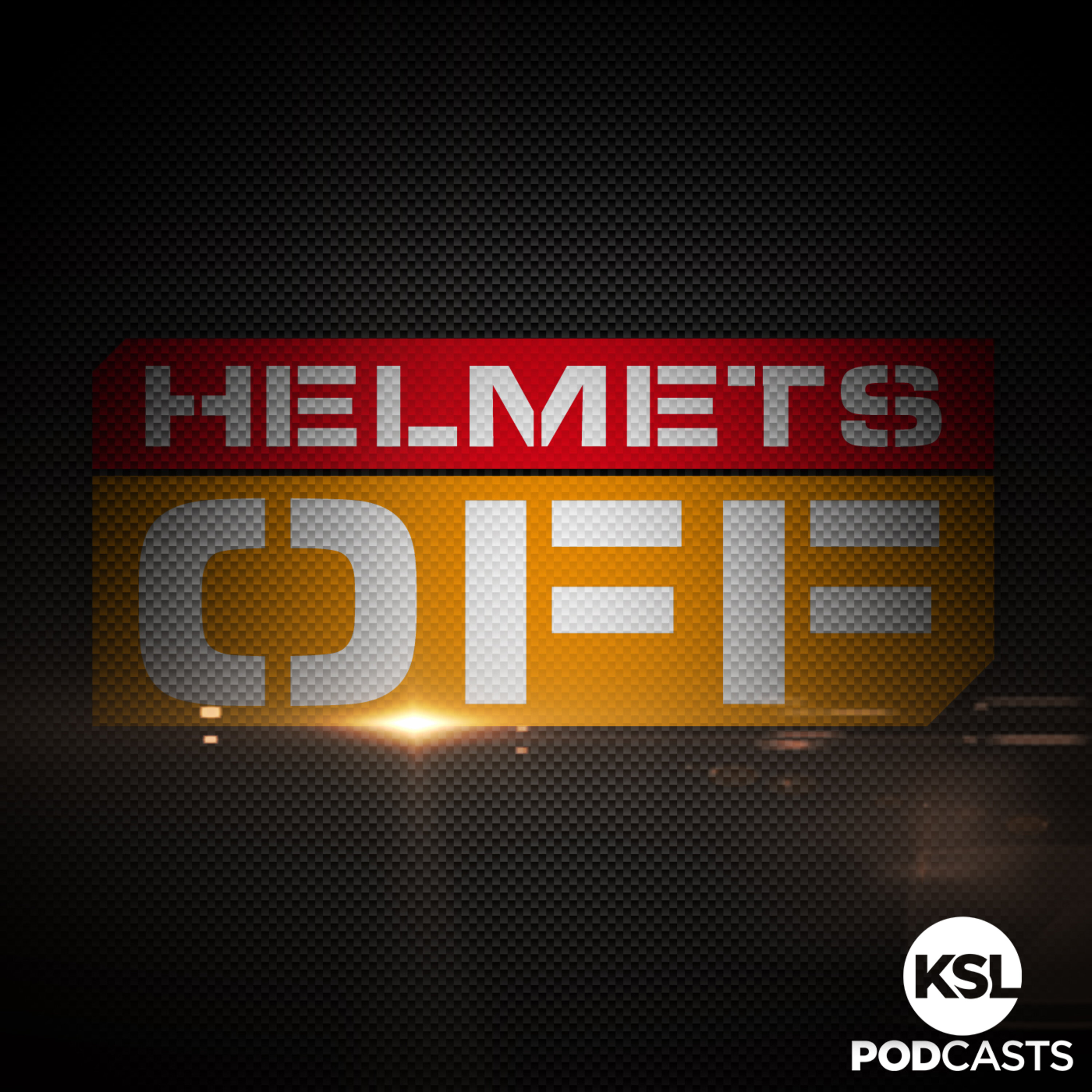 Helmets Off
Helmets Off is hosted by former NFL and University of Utah football quarterback and reality TV star, Scott Mitchell. In each episode of Helmets Off, Scott has a very personal and candid conversation with success people from all walks of life. The listeners of Helmets Off get to be a fly on the wall of a personal, insightful and unplugged conversation. They get to see their heroes and maybe their enemies from a different, entertaining and moving perspective.
Aaron Rodgers, Olympics & Zach Wilson (25:13)
7-22-2021
Today Scott Mitchell is talking NFL quarterbacks and the largest sporting event in the world: The Tokyo Olympics. See omnystudio.com/listener for privacy information.
NFL MVP Prediction & College Football Getting Boring (26:18)
7-9-2021
Scott Mitchell is here to talk NFL quarterbacks. He discusses who he thinks is poised to be next year's MVP and whether or not Taysom Hill will start in New Orleans.  Mitchell also discusses why college football has gotten so boring for the top 5 teams.  See omnystudio.com/li...
All NIL, All Day (30:56)
7-2-2021
Scott Mitchell discussed the first day and future impacts of NIL in college sports.  See omnystudio.com/listener for privacy information.
Jim Fassel's Impact On Scott (33:12)
6-10-2021
Scott Mitchell discusses his college coach, Jim Fassel, who just passed away. See omnystudio.com/listener for privacy information.
Zach Wilson In New York & NFL Free Agents Without Teams (21:56)
6-4-2021
Today on Helmets Off Scott Mitchell discusses the star treatment Zach Wilson is getting in New York, the NBA playoffs and the Utah Jazz & NFL free agents who still don't have a team. See omnystudio.com/listener for privacy information.
Sports Are Finally Getting Back To Normal & The NBA Playoffs (18:47)
5-21-2021
Scott Mitchell, former NFL quarterback, talks about why he is so happy the world is starting to feel normal again. He also talks about some the pandemic-related changes in sports and which ones he thinks should stick around.  Mitchell is rooting hard for the Utah Jazz.  See o...
Aaron Rodgers Situation & How It Impacts Jordan Love (18:20)
5-14-2021
Today Scott Mitchell, former NFL quarterback, is talking about the Aaron Rodgers drama with the Green Bay Packers and how it impacts former Utah State Aggie and current backup to Rodgers Jordan Love. See omnystudio.com/listener for privacy information.
NFL Locals With A Chance To Go Big & The Reason Behind The 49ers Trade (29:53)
4-16-2021
The 49ers made an almost unheard of trade WAYYYYY before the NFL Draft, former NFL quarterback Scott Mitchell thinks he figured out why.  Scott also talks about last year's NFL rookies from Utah and the ones who MUST perform this year to solidify themselves as NFL talent.  Se...
The Hardest & Easiest Coaching Jobs In All Of Sports (30:01)
4-2-2021
Today former NFL and Utah Football quarterback Scott Mitchell is talking about the hardest and easiest coaching jobs in all of sports. It's a fun conversation you won't want to miss with special insight into the hardest working NFL coaches. Scott Mitchell also discusses the NFL'...
Scott's Best Teammate & Importance Of NFL Pro Day, Combine, Senior Bowl (27:11)
3-26-2021
Scott talks about the NCAA Tournament in comparison to Bowl Games and the College Football Playoff and why he thinks basketball does it right, while football needs to improve.  He also talks about what it takes to be a great teammate and who some of his favorite teammates were ...
Taysom Hill In New Orleans & Utah's (kind-of) Quarterback Battle (26:56)
3-18-2021
Scott Mitchell, former NFL and Utah Football quarterback, is talking about NFL and Utah Football quarterbacks today. He starts off talking about the battle for quarterback at Utah, although he is sure the job will go to Charlie Brewer. Next, he talks about whether or not Taysom...
Zach Wilson Over Trevor Lawrence? What Is Alex Smith's Future In Football? (22:53)
3-12-2021
Today former NFL quarterback Scott Mitchell is talking the NFL Draft and NFL Free Agency.  He answers everyone's burning question, who is the number one pick in the NFL Draft? Trevor Lawrence or Zach Wilson? Next he moves onto former Utah quarterback who was just released from...
Russell Wilson's Future? And What An NFL Offseason Is Really Like (31:54)
2-26-2021
What is an NFL offseason really like? A former NFL quarterback explains. Scott Mitchell also talks about where he thinks Russel Wilson may end up and some of the best fits for the Seahawks signal caller. See omnystudio.com/listener for privacy information.
Where Would The Buccaneers Be Without Tom Brady? (25:34)
2-5-2021
Nowhere.  Scott Mitchell talks about the upcoming Super Bowl and how the Buccaneers wouldn't be where they are without Tom Brady's leadership.  Who do you think will win the Super Bowl?  See omnystudio.com/listener for privacy information.
The Tale Of The Two NFL Quarterbacks & Aaron Rodgers (23:55)
1-29-2021
Scott is thrilled about the upcoming Super Bowl matchup between Tom Brady and Patrick Mahomes. He can't wait for the Jedi Master to pass the torch to the Padawan.  Mitchell also discusses what he thinks the future of Aaron Rodgers in Green Bay looks like.  Next, we move onto ...
Packers Playoff Motivation & Urban Meyer's Bright Future As NFL Coach (24:41)
1-21-2021
In today's episode, Scott has to switch up his Super Bowl picks after the LA Rams lost. Scott talks about why the Packers have been so successful and mentions that Aaron Rodgers should thank Jordan Love for the extra kick of motivation. On the episode, Scott also talks about Urb...
NFL Playoff Predictions & The College Football Playoff Reruns (25:54)
1-15-2021
Today on Helmets Off Scott talked about the late Ty Jordan and what he meant to the Utah football program. Scott tells a story of a time he lost a player as coach. Next, Scott airs his grievances with the College Football Playoff. He mentions it is like watching reruns.  Final...
Best Sports Moment Of The Year, College Athletics In The Supreme Court (29:32)
12-18-2020
This will be the last episode of Helmets Off until the New Year. Scott wishes you all a Happy Holidays. We start by having a discussion about whether or not college athletes are amateurs anymore. Scott says absolutely not and things will soon change and the NCAA will no longer h...
A Utah V. BYU Bowl Game? The College Football Playoff? What Happened To The Steelers? (18:17)
12-11-2020
A lot questions and scenarios being evaluated in this week's episode of Helmets Off. First Scott talks about a situation proposed by KSL Sports that would have Utah and BYU play in their own rivalry bowl game. Next, Scott tries to break down the mess that is the College Football...
Positives For Utah Football, NFL Scheduling Nightmare & Super Bowl Predictions (20:00)
12-3-2020
Utah football hasn't won a game yet, two games have been canceled because of an outbreak of COVID-19 and they lost their starting quarterback to shoulder injury. All of that seems pretty gloomy, but Scott is here to soothe Ute fans with the positives he sees for this one. The big...
Will Utah Football Finally Open The Season? And NFL Players Being Their Own Agents (19:32)
11-20-2020
After having their first two games canceled due to COVID-19, will the Utah Utes finally play their first game of the season against the USC Trojans at Rice Eccles Stadium? Scott Mitchell is optimistic. Bobbly Wagner and DeAndre Hopkins decided to become their own agents, which i...
Utah Quarterback Watch & Tom Brady's Fall From Grace (17:35)
11-13-2020
THIS EPISODE WAS RECORDED PRIOR TO UTAH'S GAME AGAINST UCLA. How do cancellations impact the Utah quarterback battle? Scott weighs on. He also talks about Tom Brady's brutal loss to the Saints and what it means for his career. See omnystudio.com/listener for privacy informatio...
Utah QB Watch & Good, Better, Worst Of The NFL Season (26:18)
11-6-2020
*THIS EPISODE WAS RECORDED BEFORE UTAH'S GAME AGAINST ARIZONA WAS CANCELLED* See omnystudio.com/listener for privacy information.
Utah Quarterback Watch, Wild World Series & Antonio Brown Gets ANOTHER Shot (24:52)
10-30-2020
Scott Mitchell, former Utah quarterback, is continuing his analysis of the Utah quarterback battle. According to the coaches, the team already has a starter but will not announce who it is until right before their first game.  Mitchell shares who he WOULD start, because the 202...
Utah QB Watch, Julian Blackmon's Shocking Season & Fitz-Magic Out (28:43)
10-22-2020
Every week until the Pac-12 football season starts we are leading off with a special segment where Scott Mitchell, former U of U and NFL quarterback analyzed the three-way quarterback battle happening with the University of Utah football team. The team announced they won't name a...
Utah Football QB Watch, The Return Of Alex Smith & NFL Injuries (21:33)
10-15-2020
This week on Helmets Off Scott is breaking down the quarterback battle happening at the University of Utah. Coach Whittingham hopes to have a decision made sometimes this week. Scott recommends they make a decision as soon as possible in order to establish the leader of the offen...
Utah Football Quarterback Battle, NFL Quarterbacks Making History & Drafting Quarterbacks (25:50)
10-8-2020
Today is all about the best (in Scott's opinion) position on the field. First we are talking about the first true quarterback battle the University of Utah football team has seen in a while. Scott gives an analysis on what to look for as the Utes go through fall camp. Next, Scot...
NFL COVID Snowball? Will It Throw Players Off? Turf Or Natural? (18:56)
10-2-2020
We are all NFL this week on Helmets Off.  First, Scott talks about the biggest story in the NFL, which is the first game postponement of the season due to players testing positive for COVID-19. He talks about this could snowball and impact the rest of the season, because the NF...
NFL Week 1 & The Big Ten Leaving The Pac-12 In Chaos (28:06)
9-17-2020
NFL Football is finally back. Scott Mitchell, former NFL quarterback gives his week 1 takeaways. From Tom Brady being lackluster for former Utah Football RB Zack Moss' touchdown. All in all, we are just happy football is back. Next, Scott discusses the disaster that is Pac-12 fo...
Pac-12 Image Problem Will Keep Getting Worse And Utes To Watch In The NFL (22:57)
8-27-2020
The Pac-12 already had an image problem before they decided to cancel fall football along with the Big Ten, now, the problem will grow. Not playing a season when other conferences are will hurt their image and their name, according to Scott, especially since the College Football ...
Cancelled Fall Sports, Spring Football & How That Benefits Some Teams (29:20)
8-14-2020
The Pac-12 and the Big Ten pulled the plug on fall sports, including football, because of the COVID-19 pandemic. Both conferences said there is a possibility of spring football. Scott explains why is initial reaction to that was that it will never work but he then explains how he...
Pac-12 Player Demands, Larry Scott's Response & NFL Rookies (33:45)
8-7-2020
Today we are taking two segments to break down the Pac-12 players behind the We Are United campaign and their wants/demands from the conference. We start with the players and finish with Larry Scott's response. Scott says what he would do if he were in Scott's shoes. Finally, on...
Zero Positive NBA Tests, The NFL & COVID-19 & College Football Changes (24:02)
7-23-2020
Today's episode of Helmets Off with Scott Mitchell is all about what sports leagues will look like during the time of the COVID-19 pandemic.  First - The NBA.  In the Orlando Bubble, the league had zero positive coronavirus tests and starts games this week. They are a true mo...
Washington NFL Team Name Change & The Silver Lining Of Conference Only Schedules (20:21)
7-15-2020
The Washington NFL announced they would be changing their name due to it being a racial slur. Scott offers his thoughts.  The Big Ten and the Pac-12 announced they would only be playing conference football schedules in 2020 due to the COVID-19 pandemic. Other conferences may fo...
Morgan Scalley, Patrick Mahomes and The End Of Pro Baseball (37:06)
7-10-2020
In this episode of Helmets Off, Scott Mitchell, former Utah QB and Utes radio analyst discusses the reinstatement of Morgan Scalley after he was suspending pending an investigation into a 2013 incident when he used a racial slur. Scott also discusses Patrick Mahomes and the gian...
Detroit Lions Ownership, Favre/Tillman/Kaepernick & NASCAR and Bubba Harris (30:00)
6-26-2020
Martha Ford, longtime owner of the Detroit Lions is stepping down. Scott Mitchell offers an insightful perspective into his time under the Detroit Lions ownership. He explains how franchise ownership determines the long term success or failure of a team. Brett Favre compared Col...
Scott Is Joined By The People Who Know Him Best... His Sisters (39:26)
6-17-2020
Two of Scott's three sisters joined him on the podcast to talk about what is was like growing up with Scott and being the sister of an NFL quarterback.  They also talk about a run-in with fans that featured Scott's mom yelling at fans who were bad-mouthing Scott.  Stay tuned ...
Thoughts On Morgan Scalley, Jerry Sloan & The NBA Finals (29:46)
6-11-2020
Scott Mitchell, former NFL and Utah quarterback, shares his thoughts on the situation surrounding Utah defensive coordinator Morgan Scalley who was suspended pending an investigation into an incident in 2013 when he used a racial slur in a text message.  Next, Scott shares his ...
Sports And The Life Of Scott In The Coronavirus Pandemic (36:36)
6-2-2020
We have been offline for a while. This episode of Helmets Off is all about catching you up on what Scott and the world of sports as he sees it has been up to.   We start with Scott's life, as he shares the life lessons he has learned during the coronavirus pandemic, including ...
Best Of: How Social Media Is Hurting Sports (20:19)
5-20-2020
Tennessee tried to hire Greg Schiano (Rutgers, Penn State, Tampa Bay, Ohio State) as head coach.  The students freaked out and accused him of covering up Jerry Sandusky's crimes.   Helmets Off host Scott Mitchell talks about how Tennesse should not have bowed to student deman...
Best Of: The Most Underrated Position On The Field Has Two Jobs (24:22)
5-20-2020
The most under rated position in NFL football came up in conversation today. Scott starts with the definition of under rated and explains which position he chose and why. Don't agree? Tell us on social media. Hint: It's someone who touches the ball every play.  Facebook: Helme...
Best Of: Scott's NFL Dream (08:21)
5-18-2020
Scott is asking for your help on this one. He has a dream haunting his sleep about his time in the NFL but the dream has recently changed. This time he went back in time to play for the New England Patriots but Bill Parcels was coach...someone help him. See omnystudio.com/listen...
Best Of: NFL Quarterbacks Who Are Actually Worth $40 Mil...Not Dak Prescott (16:34)
5-15-2020
Dak Prescott thinks he is worth $40 million. Scott recalls the first year of NFL Free Agency when the salary cap per team was $32 million. That means the team had to spread $32 million across the ENTIRE TEAM. Scott doesn't think Dak Prescott is worth $40 million. He isn't eve...
Best Of: Boston Celtics Are Clear Evidence Of Karma In Sports (20:04)
5-15-2020
Helmets Off host Scott Mitchell talks about a number of subjects He cheered for the LA Dodgers, but is glad the Houston Astros won the World Series. He wishes the University of Utah would play with a chip on their shoulder all the time, not just when they've lost 4. The Celtic...
Best Of: Athletes and Mental Health Scott Opens Up About Personal Struggles (21:52)
5-15-2020
Kevin Love of the Cleveland Cavaliers recently opened up about mental health and his personal struggles. Scott talks about the intense requirements put on professional athletes to be perfect. It has been reported, but not confirmed, that NBA owners now want access to player's men...
Best Of: The True Lesson Of Sports Playing To Win... Every Time (18:26)
5-6-2020
Helmets Off host Scott Mitchell talks about his University of Utah Utes.  Sometimes it feels like they're not playing to win. In sports at that level you have to always be playing to win.  Sometimes it feels like the Utes are playing to not lose.  There's a difference. This ...
Best Of: Detroit Lions Defensive Tackle Haloti Ngata Discusses his trials and Winning a Super Bowl (24:06)
5-6-2020
Former Highland High School, Oregon Duck and current Detroit Lions Defensive Tackle Haloti Ngata talked about why he decided to play College Football for Oregon rather than playing for Utah or BYU. He reflects on his experience when he was drafted as the 12th pick in the draft. ...
Best Of: The NFL Is Not Fair And They Are Finally Getting Help (17:01)
5-6-2020
Believe it or not there are some really smart Buffalo Bills fans. The NFL has granted some money to a group of mathematicians in order to help them figure out the unfair scheduling in the NFL. The mathematicians were tired of the Bills playing teams after a bye week or Thursday g...
Best Of: Did Hall of Famer Ronnie Lott get Tired of Winning Super Bowls (37:07)
5-1-2020
Hall of famer Ronnie Lott joined Scott Mitchell on Helmets Off podcast. See omnystudio.com/listener for privacy information.
Best Of: Evolution of The NFL The Very First Super Bowl (13:38)
5-1-2020
How can the very first Super Bowl not be a ground breaking moment in NFL history? The NFL can chalk most of its success up to television. But leading up to this game the New York Giants did something that was considered shady. The AFL and the NFL eventually merged and the rest is...
Best Of: How Would a Millennial Fix The Super Bowl (16:12)
5-1-2020
We have Millennial Josh on the show today to talk about how a millennial would fix the Super Bowl. The ratings were down and Josh is here to fix it. He says millennials want a high flying offense. We want Patrick Mahomes. Scott asks Millennial Josh whether or not they care about ...
Best Of: NFL Draft Predictions & Misinformation - Draft By Need Or Quality (15:54)
4-21-2020
The NFL Draft is upon us. It's a day fans love because it brings faith that their teams might actually improve. Scott talks about all of the misinformation that is flying around because coaches know how to play games by falsifying who they want in the NFL Draft. Kyler Murray is s...
Best Of: A Look Back At Last Year's NFL Draft (17:40)
4-21-2020
The NFL Draft just happened. Scott is ranking what he thinks were the best moves in the NFL Draft. Some teams seem to always get it right while others seem to always get it wrong. The Pittsburgh Steelers really got it right in the NFL Draft this year, but not as good as the Washi...
Best Of: Creating the Perfect NFL Quarterback (18:40)
4-21-2020
We are creating the perfect NFL Quarterback with parts from all of the legendary NFL Quarterbacks. There are four categories: Feet, arm, head and heart. Scott Mitchell, former NFL quarterback, offers great insight into what makes the perfect quarterback. See omnystudio.com/liste...
Best Of: Dave Kreig- Nearly 2 Decades As NFL Quarterback (20:47)
4-14-2020
In 1980, Dave Kreig tried out for the Seattle Seahawks as an undrafted free agent out of Milton College.  Seattle picked him up as their third string quarterback.  Dave immediately started working his way up.  In 1982, he started for Seattle. After Seattle, Dave Kreig played ...
Best of: The Only Thing Better Than Playing In The NFL (07:53)
4-8-2020
"Zachary Mitchell with the touchdown!" Scott Mitchell's son scored a big touchdown during his high school football game this past weekend. Scott was and is elated. This was Zach's first varsity football game. He is a junior in high school. Scott has a hard time finding w...
Best of: Travis Pastrana Talks Best, Dumbest Stunts and Red Bull Air Forc (20:14)
4-1-2020
Travis Pastrana and Luke Aikins, both extreme athletes, came on Helmets Off to talk latest projects, biggest jumps and dumbest stunts. Last night Aikins flew into Salt Lake City over the capitol building to usher in this year's Nitro World Games. Scott asks the duo why they do wh...
Extreme Athlete Travis Pastrana Talks Best, Dumbest Stunts and Red Bull Air Forc (20:14)
4-1-2020
Travis Pastrana and Luke Aikins, both extreme athletes, came on Helmets Off to talk latest projects, biggest jumps and dumbest stunts. Last night Aikins flew into Salt Lake City over the capitol building to usher in this year's Nitro World Games. Scott asks the duo why they do wh...
Mark Eaton- "You Can't Teach Height" (45:35)
3-26-2020
"You can't teach height".  That's what Utah Jazz coach Frank Layden said when signed an unproven 7ft4inch center named Mark Eaton. Mark went on to become an NBA All Star in 1989, and was twice NBA Defensive Player of the Year.   His defense paired with Karl Malone and John S...
Favorite Female Athlete, Coronavirus & Sports, Tom Brady Drama (30:28)
3-10-2020
In honor of International Women's Day Scott is talking about his favorite women. He starts with his mom and daughters, but then we talk about Scott's favorite women in sports. His favorite female athlete is a professional golfer because of her quiet confidence.  As the thre...
NFL Draft, Combine, NCAA Transfer Rule (26:51)
2-27-2020
Scott Mitchell hated/hates the NFL Combine. He tells his personal story of the NFL Combine. Scott's problem with the NFL combine is that it is dehumanizing. He also talks about how often scouts just get it wrong. Look at Aaron Rodgers and Lamar Jackson. There are lots of great...
NBA All-Star Game Is Finally Watchable, Tom Brady Needs To Retire (23:19)
2-19-2020
How does playing in the All-Star game impact the careers of Rudy Gobert and Donovan Mitchell? Scott shares the experience of going to a quarterback's club that changed his career after being around legendary players.  Drew Brees announced he is returning to play football and it...
XFL, Tyler Huntley, NFL Free Agent QBs (26:17)
2-11-2020
Scott Mitchell brings a special guest to talk about their takeaways of the XFL. Alex Kirry, host of KSL Unrivaled, enjoyed the XFL. Scott and Alex compare the XFL to the failed AAF league. They talk about whether or not they think the league will last and the different rules. Mi...
Super Bowl LIV, Pete Rose and Tom Brady (29:07)
2-6-2020
We have a good lineup today. Scott reflects on how happy he is for Andy Reid. He talks about the qualities that make Andy Reid so amazing.   Pete Rose wants to be reinstated into baseball after the Houston Astros cheating scandal. Scot agrees.    Tom brady is an unrestrict...
Kobe Bryant, Super Bowl LIV & Taysom Hill (34:48)
1-31-2020
The tragic passing of NBA legend Kobe Bryant rocked not only the sports world but the entire world. Scott reflects on the lessons he has learned in evaluating and mourning this tragedy. Also, believe it or not, the Super Bowl is this weekend. It seems with all of the tragedy, no...
Patrick Mahomes Begins A Dynasty, 49ers Quarterbacks & Aaron Hernandez Doc (21:30)
1-22-2020
Helmets Off is going to be looking a little different now, but it will allow us to dive deeper and better analyze topics. Scott will now be doing one episode per week, focusing and analyzing three different topics in a longer-form episode.  This week we are staring with the NFL...
Winning In The NFL Is A Losing Proposition (14:45)
1-15-2020
Scott Mitchell, former NFL quarterback, is explaining why it doesn't pay to win in the NFL.  It takes an extreme toll on your body and mind to prepare for each game in the NFL. When you really stop and think about it...only one team each year actually wins it all. ALL of the...
Being An NFL Fan Is A Heart-Breaking Experience (21:01)
12-17-2019
Scott was recently on vacation and had the realization that being a fan of the NFL can be really hard. If your team doesn't break your heart this season, they will in the next five seasons. When you stop and think about it there is only one fan base per year that doesn't get ...
Don't Bench A Super Bowl Winner With A Limited Skill Quarterback (14:52)
12-3-2019
The Jacksonville Jaguars benched Nick Foles. Nick Foles who won a Super Bowl is on the bench being replaced by Gardner Minshew. Scott doesn't fully buy the Minshew Mania. Scott Mitchell is a former NFL quarterback, he gets it. He doesn't agree with benching your Super Bowl-wi...
Stevenson Sylvester: Former Ute/Steeler Linebacker Makes Career Out Of Being Good Person (22:28)
11-21-2019
Stevenson Sylvester was a linebacker at the University of Utah and was drafted by and played for the Pittsburgh Steelers and the Buffalo Bills. After his NFL career he moved back to Salt Lake City and began giving back to the community. Philanthropy is his passion. Scott and Sly ...
"Kaepernick Should Play Football While He Still Can" (15:02)
11-20-2019
Scott Mitchell knows the pain of no longer being able to play in the NFL. He also knows what it means to have to take a risk in order to stand up for yourself. As a young NFL quarterback, he chose to put his name on a lawsuit that had the potential to get him blackballed from the...
Myles Garrett Should Be Arrested (13:33)
11-15-2019
On helmets off we are talking about a helmet literally coming off and hitting someone on the head. In last night's Steelers v. Browns game Myles Garrett hit Mason Rudolph in the head with a helmet. Scott Mitchell said that without a doubt, Garrett should be arrested for assault...
Scott's NFL Dream (08:21)
11-13-2019
Scott is asking for your help on this one. He has a dream haunting his sleep about his time in the NFL but the dream has recently changed. This time he went back in time to play for the New England Patriots but Bill Parcels was coach...someone help him. See omnystudio.com/listen...
Good, Better, Worst: The Yin and Yang Of Football (19:24)
11-11-2019
We are about halfway through the NFL season and this past weekend saw some defining moments for this year's NFL. Scott tells some personal stories about his defining moments in the NFL before getting into the defining moments that happened during this weekend's games. We are ...
Is Lamar Jackson Better Than Patrick Mahomes? (15:28)
11-4-2019
We are talking the good, better and worst of the NFL this week. We are halfway through the NFL season and the best thing about that is that more than half of the teams are still in the hunt for the playoffs meaning there are lots of really good teams. There is one reason Scott th...
College Football Polls Are All About Money (07:57)
10-30-2019
Just when Scott thought he could begin to respect college football polls...this week's came out and he is scratching his head.Utah is ranked #9. Clemson is a joke, the ACC is the worst Power-5 conference. Scott thinks each conference has two or three good teams. How can you hav...
Two Reasons Drew Brees Came Back This Week (12:29)
10-28-2019
Drew Brees returned as the starting quarterback for the New Orleans Saints this weekend after he had surgery on his hand. Some people were wondering why he came back so soon especially when his backup was playing well and the Saints are coming up on a bye week. Brees said he's ...
Herm Edwards Restores Scott's Faith In Humanity (05:10)
10-23-2019
Herm Edwards, aka Reverend Herm, restored Scott's faith in humanity this weekend when he apologized to head coach of Utah Football Kyle Whittingham for the way his players played during Saturday's game. There were a lot of cheap shots and unessicarly rough plays made by the S...
Sam Darnold Wasn't Ready To Come Back (07:45)
10-22-2019
New York Jets quarterback Sam Darnold was mic'd up during the team's loss to the New England Patriots. He was caught saying, "I'm seeing ghosts." His game was awful. The Jet's offense scored zero points. Darnold has been out with mono over the first games of the seaso...
Urban Meyer Wouldn't Fit In The NFL (14:03)
10-21-2019
Urban Meyer publicly said he would want to be an NFL head coach...for the Dallas Cowboys. Scott thinks this a perfect example of Meyer manipulating the media. He hopes the fact that he wants to coach in Dallas goes viral enough for Cowboys management to hear it. Scott is of the o...
THE MADDEN CURSE IS REAL (06:39)
10-18-2019
Patrick Mahomes went down last night and it looks like he will miss three games after a knee cap dislocation. People and calling it the Madden curse and Scott is one of those people.  See omnystudio.com/listener for privacy information.
Observations From The Pocket: The NFL Is America's Best Reality TV Show (14:20)
10-14-2019
The Dallas Cowboys spurred today's discussion about the NFL drama. It seemed they were Super Bowl contenders at the beginning of the season but it appears that the wheels have fallen off. Now, everyone is calling for Jason Garrett to be fired...even though they are in first pla...
ESPN Sees BYU As Mid-Major or Group Of 5 Team (05:21)
10-4-2019
An article by ESPN gave a percentage to non-power 5 schools to make a College Football Playoff. A few schools featured were Boise State, UCF and BYU. What makes this article confusing is that they grouped BYU as a group of 5 which is inaccurate. This is a silly, fantasy land arti...
Observations From The Pocket: Interceptions Are Declining. Why? (07:35)
10-2-2019
Do you know who Paul Krause is? It's ok if you don't. Scott will tell you. We are talking about quarterbacks today in our weekly observations from the pocket. An article caught Scott's eye about the declining interception rate in the NFL, which is surprising because pass at...
Jamal Williams' Injury Stirs Up Scary Memories (16:50)
9-30-2019
Jamal Williams, a former BYU and current Green Bay Packers running back was carted off the field after a pretty serious head injury. There were two instances in that single game where players were carted off the field. Scott talks about how hard it is for a team to move on during...
NFL Or College Football: Am I Crazy? (08:18)
9-25-2019
Scott and his producer had an interesting conversation about why some years he can't stop watching the NFL with absolutely no interest in college football. And other years it is the exact opposite. His producer agreed. It just depends on the year for both of them. They can't ...
Observations From The Pocket: Baker Mayfield Is Overrated & Bye Bye Harbaugh (Maybe) (14:09)
9-23-2019
Jacob Easson of Washington looks good and will look even better as his season, coached by Chris Petersen, comes to a close. Speaking of college quarterbacks...How does USC's third guy, Matt Fink, beat #10 Utah and their high caliber defense. Moving onto the NFL. Baker Mayfield ...
Does Your Team Really Suck? Or Are They Just Working Things Out (12:08)
9-18-2019
Scott Mitchell, former NFL quarterback, is giving a list of the NFL teams he thinks will work out their growing pains. He is also telling you which teams you should just give up on and wait until next year, or the year after that. Some fans who shouldn't give up? The Bills, the...
The NFL Has Always Had Players Demanding Trades - Don't Change It (06:28)
9-18-2019
Steve Young recently compared the NFL to the NBA with players demanding trades or waivers. Scott agrees, but says this is not new territory. Look at when Steve Young or John Elway got drafted. While Antonio Brown is deplorable for other reasons, requesting trades is the least of ...
Observations From The Pocket: Injured Quarterbacks Could Lead To Next Tom Brady? (15:27)
9-16-2019
Ben Rothlisberger, the quarterback of the Pittsburgh Steelers is having season ending elbow surgery while the New Orleans Saints starter Drew Brees is out for weeks with a torn ligament. Scott wonders if this is the beginning of the next Tom Brady. If you remember - Tom Brady onl...
Soon All College Athletes Will Be Paid (07:42)
9-13-2019
The state of California has passed a bill that would allow college athletes to make money for their likeness. The bill only needs a signature from the Governor. Scott Mitchell doesn't always agree with California but he does on this one. This is the beginning of change for the ...
Observations From The Pocket: Calm Down - The First Week Doesn't Mean Anything (23:06)
9-9-2019
Here's what you need to know about the NFL according to a former NFL quarterback Scott Mitchell. There can be major adjustments made from week to week unless you are just really bad. So...bad news for the Dolphins. In other quarterback news - Tom Brady still has it and Patrick ...
Antonio Brown Should Be Banned From The NFL (10:25)
9-9-2019
Scott Mitchell, former NFL quarterback, is perplexed by Antonio Brown. Did he actually plan all of this chaos to get to the New England Patriots? The organizational culture with the Pittsburgh Steelers is very similar to the Patriots, Scott explains. Next, he wonders if New Engla...
No One Was Ready To Play In Last Night's NFL Kickoff (06:44)
9-6-2019
Last night's game was a perfect example of the NFL needing to expand its preseason. None of the starting players of the Packers or Bears were ready to play last night. Scott said the players need more time to get in tune with their instincts. See omnystudio.com/listener for pr...
Here's Who Will Win The Super Bowl...Maybe (04:59)
9-4-2019
Andrew Luck blew Scott's Super Bowl prediction. We are picking again. One AFC champion. One NFC champion. And an overall champion. Scott doesn't think the Rams will get back to the Super Bowl. One of Scott's picks begins their season on Thursday. He also is not picking the ...
Observations From The Pocket: Zach Wilson No-Show and Aaron Rodgers' First Game With New Coach (13:43)
9-3-2019
BYU freshman quarterback threw XXX interceptions in the team's game against Utah. Zach Wilson didn't talk to the media in post game press conferences. Scott took notice and has some advice for Wilson. We are so fascinated with quarterbacks here at Helmets Off and most sports ...
Andrew Luck Shocked The World - Good For Him (12:52)
8-27-2019
Andrew Luck shocked the world of NFL Football when he announced his retirement. He is young and seemingly healthy but said he needs to take care of himself and get his head right. Scott shares his thoughts and personal experiences to help make sense of this story. See omnystudio...
College Football Playoff Picks And Predictions - A Shake Up Is Here (04:49)
8-23-2019
College football officially begins tomorrow. Scott is coming at you with his prediction for the teams that will end up in the playoff and the teams that will FLOP. Scott thinks this is a year when things actually get shaken up. See omnystudio.com/listener for privacy information...
Building The Greatest NFL Coach Of All Time (15:32)
8-23-2019
Tim Landry and Bill Parcels didn't make the list of the greatest NFL coaches of all time. That shows you how many amazing coaches have graced the NFL. Scott Mitchell, former NFL quarterback, loves making these ultimate, super players and coaches but this is the one he has been ...
Antonio Brown - Scott Gets All Sides (11:01)
8-21-2019
Scott gets it - having the equipment that makes you comfortable is extremely important. Your equipment becomes apart of you when you get to the level of excellence of being and NFL player. Tiny changes can really throw things off. But he also thinks Antonio Brown needs to get in ...