Ranking BYU Football Gameday T-Shirts Over The Years
(Scott G Winterton, Deseret News)
PROVO, Utah – The annual gameday t-shirt has become a fixture in the BYU football off-season. When a new shirt is revealed, it signals another year on the gridiron around the corner.
Since 2006, when BYU released an "All Out, White Out" shirt for a home game against Utah State, the Cougars have annually released a shirt that they call the "gameday t-shirt."
With the reveal of the 2021 version, there have now been 15 different gameday shirts released to BYU fans.
Since it's the off-season, and honestly, I might be the only person silly enough to do this, I'm going to rank these from the worst (#15) to the best (#1). Please share your thoughts with me on the @kslsports Twitter, Instagram, or Facebook on how you would rank these shirts.
15. 2015 – Go Cougs
This one was voted on by the fans and made by a local shirt company in Utah. The design featured the saying, "Go Cougs." This one was just underwhelming.
#BYU trying something different for their 2015 Gameday shirt. See the options at https://t.co/dNZASPP2b2 pic.twitter.com/2FZJwYkLrn

— Greg Welch (@ArtDirectorBYU) May 22, 2015
14. 2019 – BYU Football Gameday Collage
The only positive to this one was the introduction of a Nike version of the shirt.
13. 2014 – Rise
I'll cut BYU some slack on this one. Originally the saying was going to be "Rise As One." Which is solid. But that was a Budweiser trademark. So BYU stepped out of that and went with "Rise."
BYU forced to change its slogan "Rise As One" because it's trademarked by Anheuser-Busch.http://t.co/QbFKBmdssl pic.twitter.com/61JobTxwyD

— Yahoo Sports College Football (@YahooSportsCFB) August 5, 2014
12. 2020 – Strong
There were many doubts if there would be a season or not last year amidst the COVID-19 pandemic. BYU still rolled out a game day shirt that was released two weeks after the opener at Navy.
2020 Gameday Tees are here🤩!! Get yours in-store or online (link below👇🏽)https://t.co/aQfud4MfZq pic.twitter.com/IBnFfzTsKY

— BYU Store (@byustore) September 16, 2020
11. 2017 – Always Reppin'
"Always Reppin'" was put to the test by many after BYU produced a 4-9 record in 2017.
10. 2012 – Every Day Is Gameday
BYU fans are known to support their team, every single day, no matter what. So this was a fitting slogan on a shirt.
9. 2009 – 25th anniversary of National Championship
The end of a golden era of BYU Football with Max Hall and company leading the Cougars to another 11-win season on the silver anniversary of the national title.
8. 2011 – Rise Up
There was a lot of buzz for BYU football entering their first year as an FBS Independent. To succeed on their own, everyone needed to "Rise Up." It felt like an appropriate saying for the time the program was in.
7. 2021 – Loyal
This year's gameday shirt is going to be one of those shirts that some will absolutely love; others will despise. The navy one looks the best, personally.
Are you a fan of the new #BYU Gameday t-shirts?#BYUFootball @kslsports https://t.co/arvB8i6dl7 pic.twitter.com/sUQcNhqRBa

— Mitch Harper (@Mitch_Harper) June 1, 2021
6. 2013 – Loyal Strong And True
This was another shirt design voted on by fans. Loyal Strong And True pulls from BYU's fight song, "Rise And Shout."
The better shirt design in that 2013 season was the Nike drop leading up to the Utah game that read "Royal Strong And True" in royal blue.
5. 2018 – COUGS
After going 4-9, no one was in the mood for catchphrases. "Cougs" was a nice pick, and they put it out in all three colors: royal blue, navy blue, and white.
4. 2008 – The Quest for BYU Football
This shirt is somewhat infamous, but don't you love it? The Quest for Perfection tag line began when Bronco Mendenhall addressed BYU fans at halftime of a basketball game against Colorado State.
His back-to-back Mountain West Champion program was ready to take the next step. That next step was the BCS and an undefeated record.
BYU came up short, going 10-3 in 2008 and then 11-2 in 2009. But to stick your neck out on the line and make it clear they were chasing perfection was fun to see.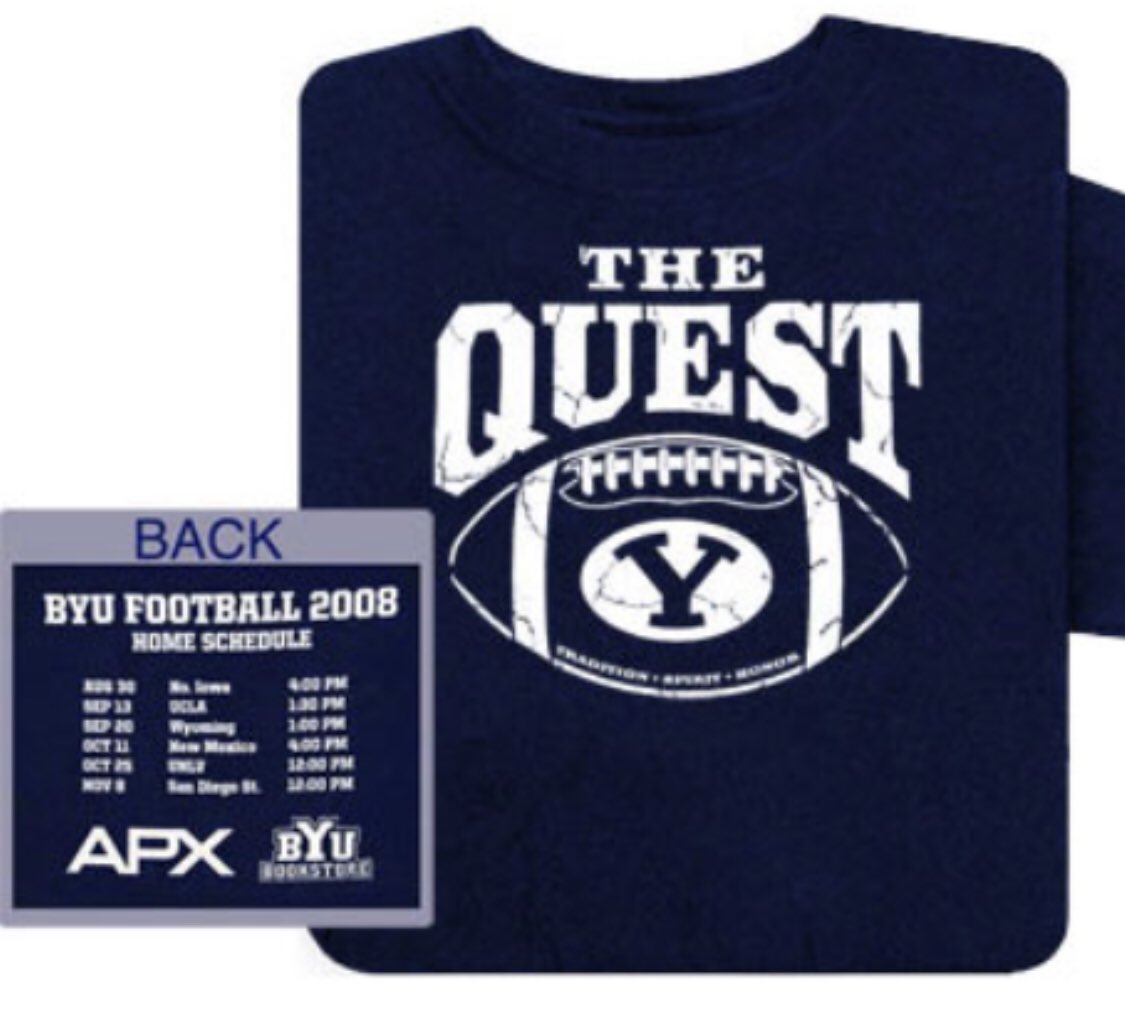 3. 2010 – We Are BYU Football
As pictured above in the featured image, BYU kept it simple again in 2010 with a "WE ARE BYU FOOTBALL" message. Solid.
2. 2007 – Fully Invested
Bronco Mendenhall created excellent slogans for the BYU program. "Fully Invested" like "The Quest" live in infamy in BYU lore, but they both accomplished what these gameday shirts are supposed to do, get fans excited for the upcoming season.
Is this still the best gameday shirt #BYU has ever put out? pic.twitter.com/dLW7tA9zZf

— Mitch Harper (@Mitch_Harper) June 2, 2021
1. 2016 – Reppin' The Y
The summer of 2016 had BYU fans coming out of the woodwork because Kalani Sitake and Ty Detmer were now leading the Cougars.
For a few months, you couldn't turn far in the pockets of BYU social media without seeing fans posting selfies with Ty and Kalani in their "Reppin' The Y" shirt.
Great design on this one. This is the best gameday shirt since they started rolling out.
Pick up your official 2016 @BYUfootball Game Day shirt at the @byustore & https://t.co/efx5fSm5X4 for $10!#RepTheY pic.twitter.com/TiGdRPWYx2

— BYU Cougars (@BYUCougars) June 21, 2016
Mitch Harper is a BYU Insider for KSLsports.com and host of the Cougar Tracks Podcast (SUBSCRIBE) and Cougar Sports Saturday (Saturday from 12-3 pm) on KSL Newsradio. Follow him on Twitter: @Mitch_Harper.
BYU Cougars Scoreboard

BYU Cougars Team Leaders

BYU Cougars Standings