Utah Fans React To USC Postgame Comments
Oct 22, 2018, 4:58 PM
|
Updated:
5:35 pm
(Ravell Call/Deseret News)
SALT LAKE CITY, Utah – The University of Utah football team won their third straight game as they knocked off the USC Trojans, 41-28.
Utes Started Slow
Utah trailed 14-0 in the first quarter of the game, starting with USC quarterback JT Daniels hitting wide receiver Michael Pittman Jr. on a 34 yard pass.
Former Bingham Miner and current USC defensive tackle Jay Tufele ran in a fumble recovery 48 yards for a touchdown, giving the Trojans the early advantage. Fans were ready to give up on the Utes when they gave up the two scores.
I apologize for my first quarter melt down. Please forgive me #goutes #lighttheu #USCvsUTAH

— Chadtheute (@chadtheute) October 21, 2018
Good things happen when you blitz. Happy for Tufele on the scoop and score. Dude's an absolute beast. #USCvsUTAH

— bench warmer (@GldnStHvyWt) October 21, 2018
Man I genuinely hate these "welp" fans that give up after 10 mins.#USCvsUTAH

— Vitamin J (@OremUte) October 21, 2018
…. so too late for Tuttle to come back then? #USCvsUTAH #GoUtes

— Andables (@andables) October 21, 2018
Utah Turns On The Offense
Following the 14-0 hole that Utah was in, they scored 34 unanswered led by quarterback Tyler Huntley, who accounted for all of the touchdowns. He threw three touchdowns through the air and added another score on the ground.
Huntley finished with a career-tying 371 yards passing and four touchdowns.
Utah fans and media were impressed with the run that the Utes went on.
I really should have started Tyler Huntley this week on my fantasy football team #Utes #USCvsUtah

— Jeremiah Jensen (@JJSportsBeat) October 21, 2018
TE TD! #goutes #USCvsUTAH pic.twitter.com/rwZE2lSlWT

— Utah Athletics (@utahathletics) October 21, 2018
Tyler Huntley is torching USC's defense tonight

— Kyle Murphy (@MurphTHEgreat1) October 21, 2018
Utah's Defense Was Tremendous
They held USC to just 3-of-14 on third down conversions and forced two turnovers. The Trojans compiled 205 total yards while Utah's offense put up 541 yards.
😤Defense tonight 😤#goutes #USCvsUTAH pic.twitter.com/kYtpPwLWis

— Utah Athletics (@utahathletics) October 21, 2018
Utah's Defense vs Quarterbacks pic.twitter.com/OrKxOpVfA2

— USS UTAH (@benniihanna) October 22, 2018
Utah's defense is manhandling USC tonight. Just absolutely dominating them. The Utes might have the strongest defense in the Pac-12

— Travis Baltes (@TravisBaltes) October 21, 2018
Trojans' Fans In Panic Mode
The loss to the Utes has put the Trojans in a tough situation, they are 4-3 overall and 3-2 in the Conference. Utah holds the top spot in the South Division and would win the tiebreaker with USC if they ended the season with identical records because of the Utes winning the head-to-head match up.
Ultimate goal for the #USC Trojans- FIRE CLAY HELTON!!!!-NOW!!!!#USCvsUTAH

— Jordan E. Jaquay (@coachjakes12tvc) October 21, 2018
Plausible replacements for @USCCoachHelton : the easter bunny, santa claus, @PeteCarroll , @Coach_EdOrgeron , @CoachJeffFisher …. #USCvsUTAH #FightOn #uscfootball

— King JoeyD da Wicked (@JDtheVice) October 21, 2018
.@uscfootball gained 200 yards on offense, and gave up 550 yards on defense #USCvsUtah

Good bye entire coaching staff.

— Dane McLeod (@danemcleod) October 21, 2018
USC Players Do Not Credit Utah
Following the game, USC players were conducting interviews in the locker room. They didn't give any credit to the Utes, neither did uscfootball.com.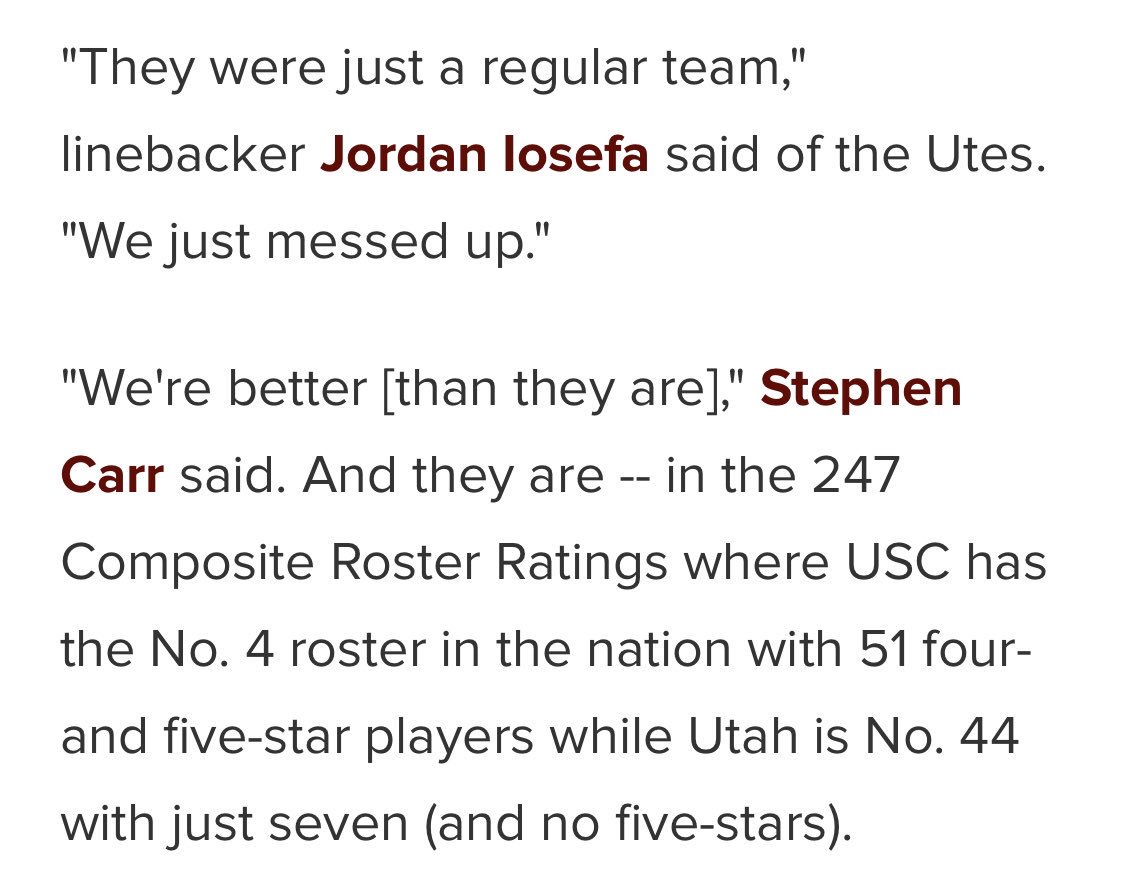 Utah's football responded on Twitter by starting the hashtag #JustARegularTeam.
Last night:
Offense: 541 total yards
Defense: allowed only 205#JustARegularTeam 💁‍♂️🤫 pic.twitter.com/cC8cF6tniN

— Utah Football (@Utah_Football) October 21, 2018
#JustARegularTeam will live on forever. I love you @Utah_Football and I'm sorry I ever doubted. https://t.co/kNTUc621gz

— Braden Shamo (@BradenShamo) October 21, 2018
Not #JustARegularTeam   USC players are a joke https://t.co/Ql1HUNCOoz

— juliebean (@juliagulia614) October 22, 2018
Utah will face UCLA on Friday at the Rose Bowl at 8:30 p.m. on ESPN.
Utah Utes Scoreboard

Utah Utes Team Leaders

Utah Utes Standings